Liquid Gases Air and Gas Separation
Air filters play a crucial role in liquid gas production processes to ensure the quality and purity of the gases. compressed air is used for various purposes, such as powering equipment and instrumentation. Compressed air often contains contaminants such as dust, moisture, oil, and other particles that can compromise the quality of the produced gases. Air filters, including particulate filters, coalescing filters, and activated carbon filters, are employed to remove these contaminants from the compressed air before it is used in the production process. Liquid gas production involves processes like distillation, fractionation, and liquefaction, which require the purification of raw gases. Air filters are used to remove impurities and contaminants present in the feed gases, ensuring that the final product meets the required purity standards.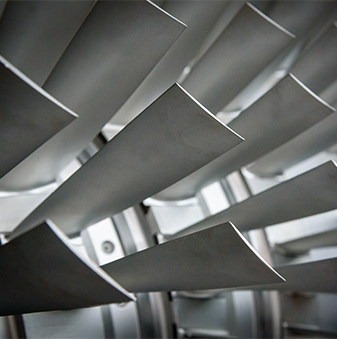 Large Air Compressor
Air filtration is vital for attaining high efficiency and low maintenance in gas turbines and compressors. The multi-stage filtration system provides efficient filtration and protection. Spectrum GT filters are humidity resistant and hydrophobic, ensuring high performance even in harsh conditions.